BCU Foundation is a member-supported charitable institution which was created to establish a permanent means of delivering substantial assistance to noteworthy community-based cultural and educational endeavours in Canada. BCU Foundation has been proud to play a leading role in the development and promotion of our Ukrainian-Canadian community through its generous financial contributions and volunteer work, driven by its motto: Community Spirit Binding Generations.
BCU Foundation is committed to funding projects and activities that promote the rich Ukrainian-Canadian cultural identity and depict the historical context of the Ukrainian-Canadian experience. Its support also enhances the development of community organizations and fosters leadership in the Ukrainian-Canadian community.
Since its establishment, BCU Foundation has distributed over $15 million in support of countless projects to a multitude of organizations across Canada.
BCU Foundation has grown through the support of donors like you.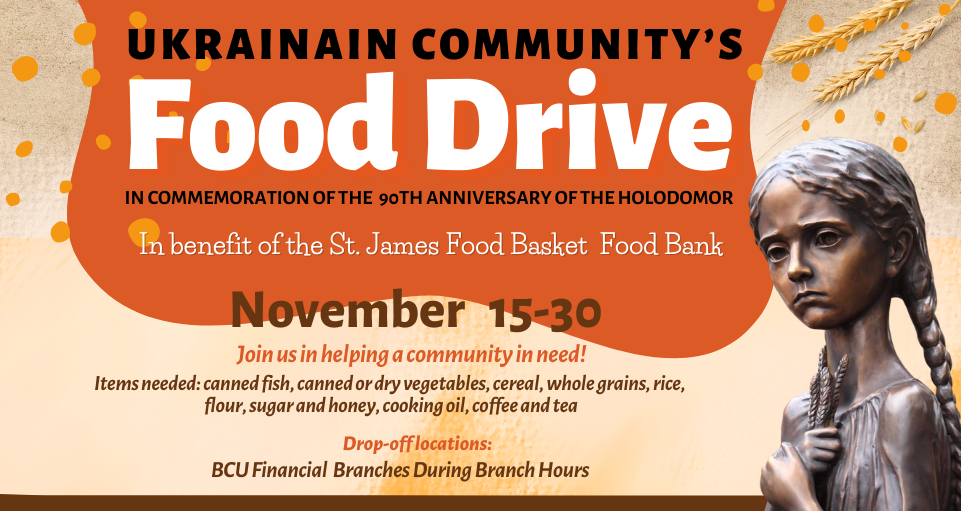 Ukrainian Community Food Drive in Commemoration of the 90th Anniversary of the Holodomor
Items needed: canned fish, canned or dry vegetables, cereal, whole grains, rice, flour, sugar and honey, cooking oil, coffee and tea.
Collected canned and dry goods will benefit the St. James Food Basket in Toronto, Food Share Hamilton, and the Ottawa Food Bank.
What We Support
historical and cultural endeavors
education and exhibitions
publications
documentaries and multimedia
concerts and music recordings
athletes, youth and sports
medical and humanitarian
community events and conferences
relief of poverty