Canada 150 – Building the Ukrainian Story
06.27.2017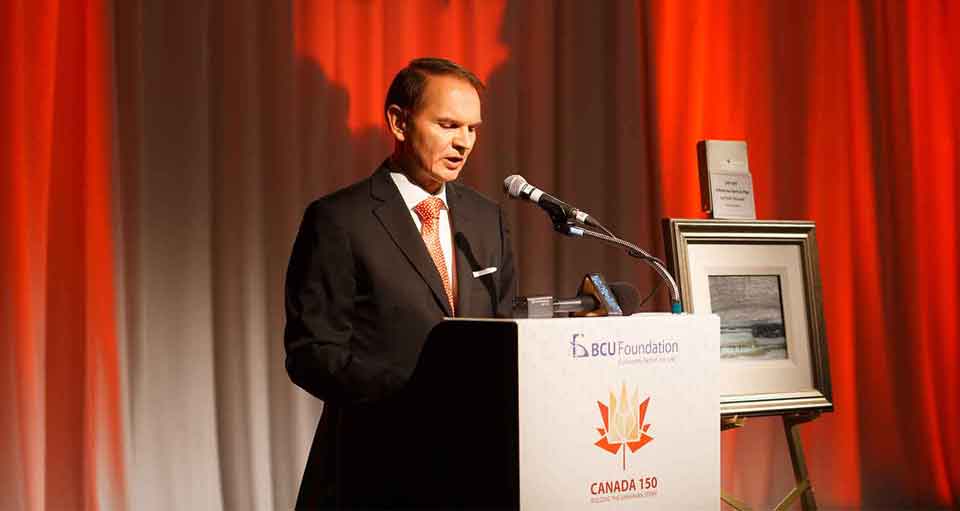 On Friday June 16, 2017 BCU Foundation hosted close to 300 guests at the "Canada 150: Building the Ukrainian Story" Gala & Live-Auction which marked the 150th Anniversary of the Confederation of Canada in a festive and celebratory atmosphere.
BCU Foundation raised over $90,000 for the "Canada 150 Fund." This newly created fund will provide scholarship opportunities for Ukrainian-Canadian graduate and post-doctoral students, enabling them to pursue careers in science, technology, business, finance and other disciplines.
The evening featured a five-course Canadian themed dinner, musical entertainment by DoVira & Carissa Klopoushak, as well as a special presentation from Mark O'Neill, President & CEO of Canadian Museum of History.
The live auction featured the works of Ukrainian-Canadian and Ukrainian artists and other various items which were so generously donated for the benefit of the Canada 150 Fund.
Special thank you to our sponsors without whom this event would not have been made possible!
Platinum Sponsors:
BCU, Kostruba & Sons Inc., Roman Medyk
Gold Sponsors:
Community Trust, Meest Corporation
Silver Sponsors:
Prof. Basil & Mrs. Olia Kalymon, Michael & Nadia Pelensky, Turner & Porter Funeral Directors
Bronze Sponsors:
Cholkan + Stepczuk LLP, Chartered Accountants, Bohdan & Oksana Ciz, Motria Dzulynsky, Re/Max Professionals Inc., JoAnne Gludish, Royal LePage Real Estate Services, Golden Lion Restaurant, Pavlo & Adrianna Grod, Kantor Currency Exchange, Mitchell, Bardyn & Zalucky LLP, Volodymyr & Luba Olenych, Bohdan Pahuta, C.P.A., Mr. Security, Sculpture Supply Canada and Shelton Petroleum.
Media Sponsors:
Forum TV, Kontakt TV, Radio Meest, Razom Media