Toronto Premiere Film Screening of Recovery Room
03.26.2018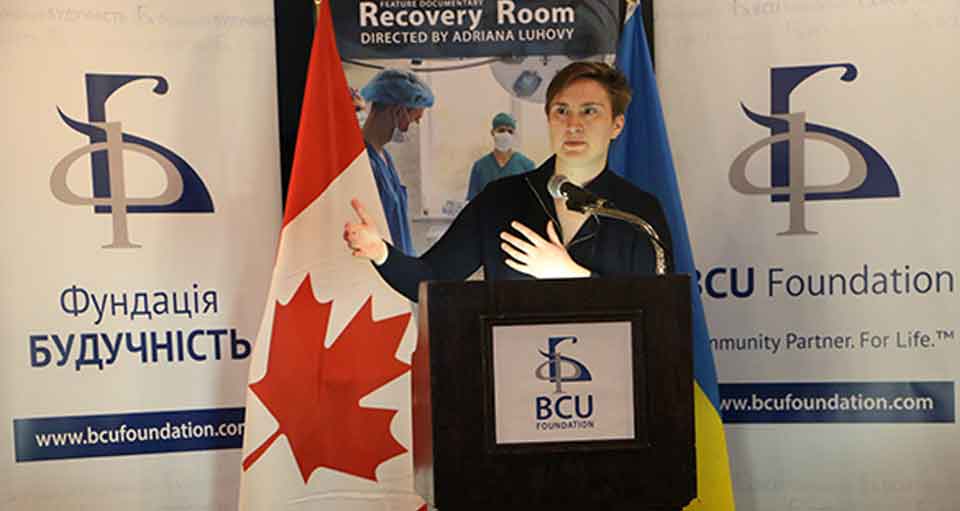 On Thursday, March 22, 2018, BCU Foundation was proud to present the Toronto screening of Recovery Room – a feature documentary that tells the story of several humanitarian Canadian Medical Missions in Ukraine in 2014 and 2015. Composed entirely of volunteers, the medical team shares their story as they tried to make a difference in the lives of wounded Ukrainian soldiers – victims of the Russian invasion of Eastern Ukraine.  Director, Adriana Luhova, has masterfully captured incredibly powerful moments during this journey.
Recovery Room is an internationally renowned film which has earned many awards and accolades.
The film has won eleven international awards and has also been pre-selected for the 2018 Toronto International Independent Film Festival, the 2018 Geneva Film Festival, and many others, and has just recently won an award for Best Cinematography at the 2018 London International Film Festival in the U.K.
Recovery Room is Adriana's first major feature documentary film which raises public awareness to the ongoing war in eastern Ukraine and its impact.  BCU Foundation is proud to support Adriana and her team with the production of this film and is even more proud to have the opportunity to share her work of art with the wider Ukrainian-Canadian community and beyond.Since its inaugural event in 2006, BCU Foundation has been proud to play a leading role in the development and promotion of our Ukrainian-Canadian community through its generous financial contributions and volunteer work. Through the years, BCU Foundation has distributed over $6 million in support of countless projects to a multitude of organizations across Canada.