BCU Foundation & Meest Corporation – Delivering Aid to Ukraine
03.31.2022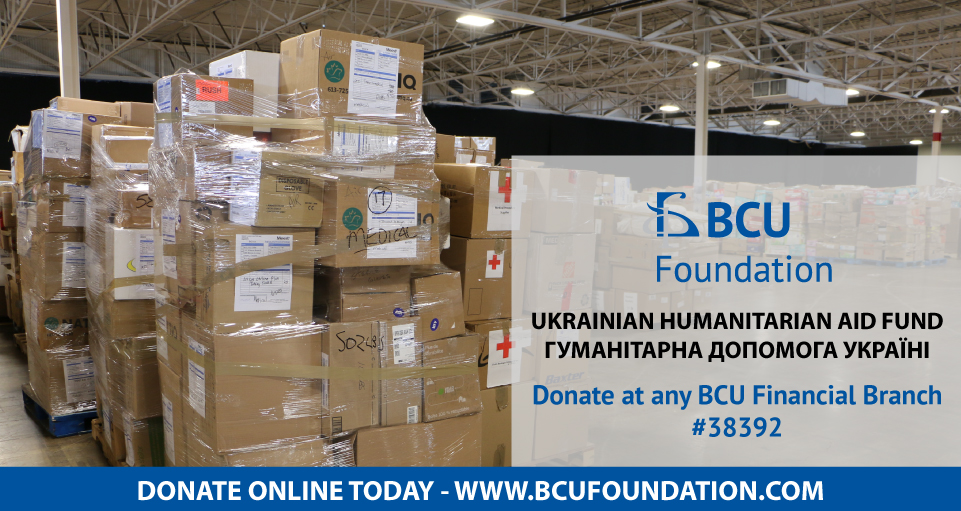 BCU Foundation is truly grateful to Mr. David Sutton, President and CEO of the Toronto Congress Centre who has offered 70,000 sq.f. of space to house humanitarian aid bound for Ukraine. The effectiveness of humanitarian aid supply chains is often maximized by responsible business practices paired with compassion, generosity and kindness. Thank you to Mr. David Sutton, the team at TCC as well as Councillor Michael Ford, for helping Ukrainians and standing with Ukraine.
---
VERY IMPORTANT UPDATE REGARDING SHIPMENT OF AID TO UKRAINE
As of April 4, 2022, free shipment of targeted humanitarian aid to Ukraine will be limited to organizations which apply directly to BCU Foundation.   General aid will continue to be shipped by Meest to Ukraine at a discounted price.
Due to the overwhelming volumes of supplies we have received from the public, Meest, together with BCU Foundation, will no longer be accepting general humanitarian aid from individuals or organizations for free shipping to Ukraine.  BCU Foundation and Meest are shifting their joint program and organizations which are providing specific targeted aid, including medical supplies, can apply to BCU Foundation directly.
BCU Foundation partnered with Meest in response to the immediate need to provide aid to the people of Ukraine.  The response from the public has shown how supportive our community is and the program delivered over 180,000 kg of aid to Ukraine.  Our Rapid Response Team on the ground continues to provide us with daily updates about the needs on the ground.  As a result, BCU Foundation and Meest are making adjustments to their Aid Delivery Program.
Free Shipping of targeted humanitarian aid to Ukraine to Ukraine is made possible through the Ukraine Humanitarian Aid Fund at BCU Foundation.  BCU Foundation is a charitable organization that supports Ukrainian community-based cultural, historical, and educational endeavors in Canada. BCU Foundation also supports important initiatives which provide humanitarian aid to the people of Ukraine. The Ukraine Humanitarian Aid Fund is a designated fund at BCU Foundation established in 2014 through fundraising and broad-based donations.  The fund supports the casualties of war and their families, displaced persons and provides humanitarian aid to the people of Ukraine.
To continue supporting the shipment of necessary aid to Ukraine, please donate to BCU Foundation designating the Ukraine Humanitarian Aid Fund.  Donations can be made at any BCU Financial Branch or at https://bcufoundation.com/donate-today/.
Organizations wishing to apply for a grant from BCU Foundation can find more information at https://bcufoundation.com/grants-and-scholarships/.
Details about discounted pricing for the continued shipment of general aid by Meest can be found here https://ca.meest.com/humanitarian-aid-packages-for-ukraine-ca.
Thank you for helping Meest and BCU Foundation help Ukraine!
СЛАВА УКРАЇНІ ~ ГЕРОЯМ СЛАВА