BCU Foundation's ASSIST Fund – Special reception featuring works of Taras Polataiko
02.23.2023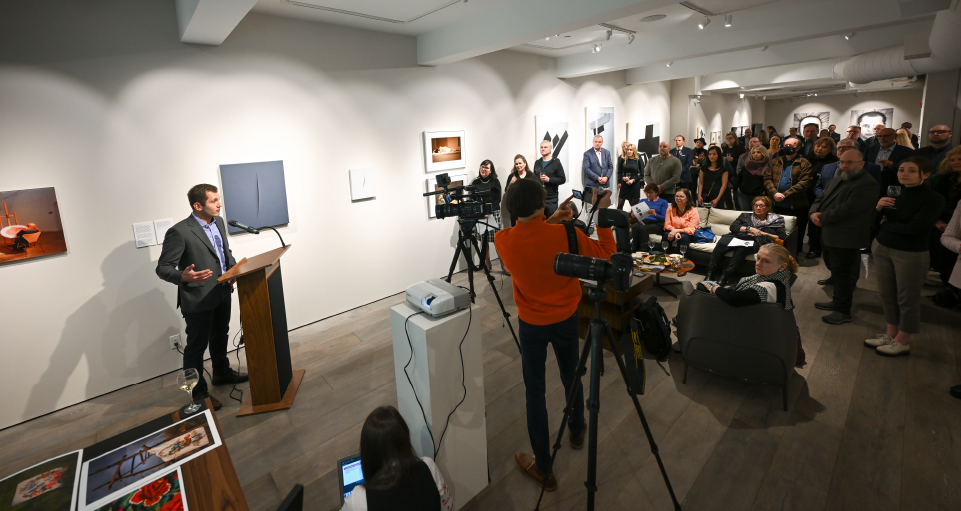 ---
The Barbara Edwards Contemporary Project Space opened its doors on February 9 for a special reception featuring the works of Ukrainian-born Canadian artist Taras Polataiko. The event raised awareness about ongoing wartime orthopaedic trauma in Ukraine and BCU Foundation's special fund titled Advanced Surgical Skills and Implants for Skeletal Trauma (ASSIST).
The exhibition's curator, Barbara Edwards, delivered the opening remarks along with an insightful, in-depth lecture on the themes of Polataiko's work, which call attention to cultural conflict, displacement, identity, and moments of cultural genocide. Polataiko's exhibited works connect to Kazimir Malevich's art with its glare, as a number of the works are paintings of photographed paintings, thus making Polataiko a painter's painter with radical visual thinking that reinvents conventionality. Edwards also brought attention to the two portraits of "Dima" and "Oleh," Ukrainian soldiers photographed in the surgical wing of the Kyiv Military Clinical Hospital for the series "War. 11 Portraits." The two photographs are images of war that present an unseen aspect since the physical injuries of the soldiers are not photographed. The aesthetic of each photo compels the viewer to look into the eyes of these soldiers and listen to what they have to say without judging them for their physical ailments. The absence of injuries in the photographs does not mean they are nonexistent, as traumatic orthopaedic injuries are substantial and present great challenges to artists and doctors alike.
Edwards then welcomed Dr. Markian Pahuta, an assistant professor of surgery at McMaster University and a spine surgeon at Hamilton Health Sciences, who serves in various leadership capacities. In response to Russia's invasion of Ukraineit was under Dr. Pahuta's recommendation and leadership in March 2022 that the BCU Foundation established a medical humanitarian initiative called the Canadian Assistance to Ukraine for Surgical Equipment (CAUSE) Fund. BCU Foundation's CAUSE Fund supplied orthopaedic and trauma surgery supplies to Ukrainian hospitals and physicians caring for war-injured patients. In November 2022, with new partners MacOrtho and the Canada Ukraine Foundation, the project had grown into Advanced Surgical Skills and Implants for Skeletal Trauma (ASSIST).
Dr. Pahuta explained that the volume of injuries as a result of the war in Ukraine has seriously drained the ability of Ukraine's health system to cope. Assistance with the volume of surgical implants as well as more modern technology and training to use it are now essential in Ukrainian hospitals in order to have the best clinical outcomes for Ukrainian civilians and military personnel. The ASSIST Project will address both the orthopaedic implant shortage and the training of surgeons for a more modern, advanced management of challenging wartime orthopaedic surgical wounds.
War is a concrete human experience and responding with full commitment is necessary for survival. Let's support both the patients undergoing surgery as well as their doctors by donating to the BCU Foundation's ASSIST Fund.
BCU Foundation thanks the Danyliw Foundation, Scott Shields Architects, and Barbara Edwards Contemporary for their tremendous support.
Photos: Nick Wons